Primed Disposable Level 2 Gowns Box Knitted Cuff (100pc )

A comfortable gown that is easy to put on, has neck and waist tie closures for best fit and long sleeves with knitted cuffs that secure sleeve edges firmly around the wrist.

$

72.76

---
Level 3 Surgical Masks
A face mask that protects workers against:
Viruses
Plant pollen
Smog
Bacteria
Liquids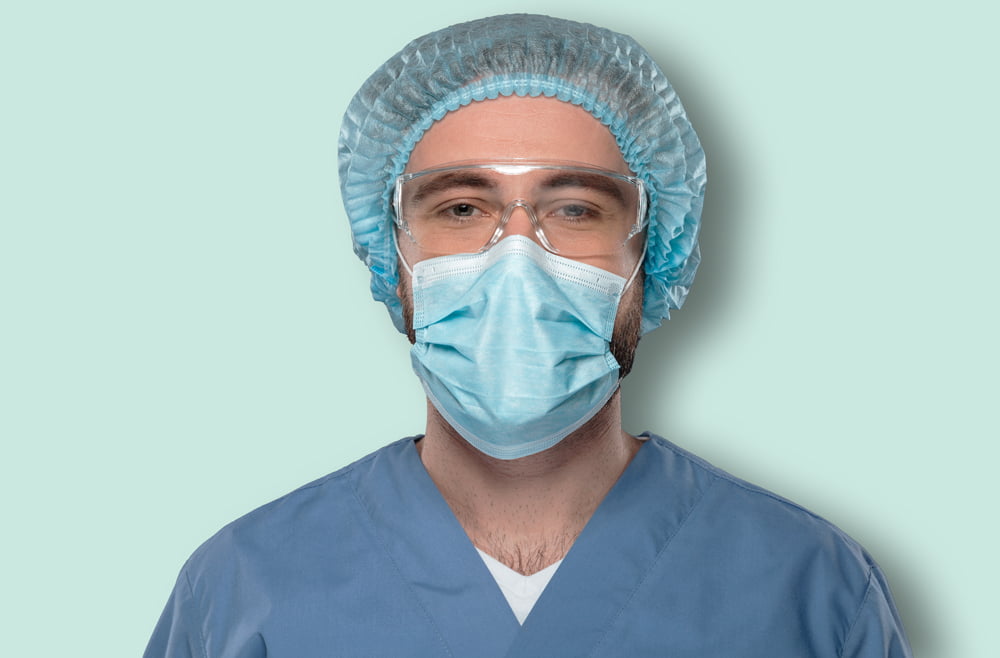 ---
High Air Flow
Level 3 surgical masks include 3 layers of construction that offer workers, such as clinicians, the comfort, protection, and breathability they seek. These masks are designed for the ultimate protection against fluid exposure.

---
Ergonomic Shape
The best face coverings are surgical masks made with a plastic laminated nose piece, surgical ear straps, and Softex binding.
Canadian-Made Single-Use Masks for Your Protection
---
Proserva handpicks its selection of medical equipment and supplies all of which meet the health and safety standards required by Canada. Whether you're purchasing a medical gown, vinyl gloves or a medical face mask, our products are made with high-grade materials for a superior performance. Cloth masks and other face coverings may be enough for visits to grocery stores, but medical professionals need the best type of mask because they can't always practice social distancing while doing their job. Proserva's mission is to provide our customers with a better way to help their communities, and we do that by offering affordable products that can be bought in bulk. Wearing our 3-ply masks with additional safety measures, such as face shields, only improves your protection. Working with our company means staying safe during the pandemic for a better tomorrow.
---
Do You Provide Free Shipping?
---
Proserva offers free shipping to address in the Greater Toronto Area. All other addresses receive a discounted rate provided by Canada Post. While our company offers Canadian-made products, Proserva caters to North America and international customers, sending orders around the world to meet the needs of all medical professionals. Shipping costs vary according to your location.
Want more information about our products and services? Contact us to find out about our shipping and delivery policies, the status of orders, and more!
---
FAQs for Face Masks Canada
Can I buy N95 masks in Canada?
Yes, you can buy N95 masks in Canada, as well as KN95 masks. Proserva offers CDC- approved KN95 masks in Canada that can be used as a replacement for the N95 mask. Our KN95 masks are made with high-quality materials and have a particle filtration of 95% at the 0.3 micron level. Keep in mind that N95 masks are not originally designed to be a medical product, and Level 3 masks offer much higher levels of filtration, breathability and protection more suitable for medical applications.
What are Level 3 Surgical Masks?
ASTM Level 3 surgical masks have four pleated layers to protect the wearer against a high risk of fluid exposure. It is a medical-grade face mask that provides a high performance, comfort, and breathability. It has a particle filtration of 98% at the 0.1 micron level.
What kind of masks do surgeons wear during surgery?
During surgery, surgeons wear disposable face masks for two reasons. One reason is to protect the surgeon against fluid transference, e.g., splashes from the patient. The second reason is to protect the patient from infection against the germs from the surgeon's nose and mouth.
What is the best surgical mask to purchase?
The best surgical mask to purchase is the Level 3 since it is the most effective against COVID-19. The CDC recommends that only health professionals use it since they are more often in contact with the disease, and therefore, more at risk of contracting COVID-19.
Is a Level 2 mask a surgical mask?
You can order face masks online on Proserva's website. Everything we offer is made in Canada, but we serve international customers. We offer many medical supplies, including different types of face masks. We provide the ASTM Level 2 surgical mask, the ASTM Level 3 surgical mask, and the KN95 face mask model. Proserva offers free shipping in the Greater Toronto Area.
Are Level 3 masks surgical masks?
ASTM Level 3 masks are surgical masks. They provide healthcare professionals with the best protection against liquids. Made with four pleated layers, ASTM Level 3 surgical masks filter 98% of particles at the 0.1 macron level. They are comfortable and allow for breathability.
What is the best disposable medical face mask?
The best disposable medical face mask is the Level 3 face mask. But the Level 2 makes for an excellent replacement since it's approved by the CDC. Proserva's Level 3 masks protect against liquid contamination and airborne particles with 98% filtering efficiency at the 0.1 micron level.
Where can I buy face masks in Canada?
You can buy face masks in Canada through the Proserva online shop. Our medical products include essential medical equipment from Nitrile Gloves to the ASTM Level 2 and 3 face masks to gowns and gloves. Our selection of products are made in Canada, and we offer free shipping to Toronto area customers.