Face Shield – 10pc
October 21, 2021
Temporary Crown and Bridge Material
October 26, 2021
Luminary+ LED Curing Light
$ 289.27
ADVANTAGES:
Three working modes: Full, Ramping, Pulse.
Constant light intensity.
Battery can be replaced
Light output 120 0 mW/ cm2 -14 0 0m W/ cm *
Includes Pedestal Built in Light Intensity Indicator.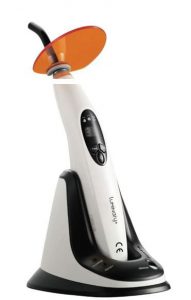 The Luminary+ is a great and reliable curing light.
with three working  (Full, Ramping, Pulse)
four time settings (5,10,15,20 seconds)
It has a large capacity battery with a full charge it can be used for more than 400 times continuously under 10 second working mode, and a low standby power consumption with forty days standby time.
Built in radiometer.
Related products
Ultrasonic Piezo Scaler Basic comes with an Aluminum Alloy handpiece to ensure no cracking.

$

339.89

Hydrolux line of high speed 4 hole push button handpieces. The wonderful craftsmanship features German ceramic bearings and a special hard surface treatments for anti -friction. […]

$

303.73